Large liners and mini mudflat hiking tours are just a stone's throw from here. Or to put it another way: work where others like to holiday. That's what you can do at our Emden site.
Why this is a good place to live

Emden is the ideal place for you if you love maritime flair. With a population of around 50,000, the seaport city in the north-west of East Frisia is located directly at the mouth of the Ems in the North Sea.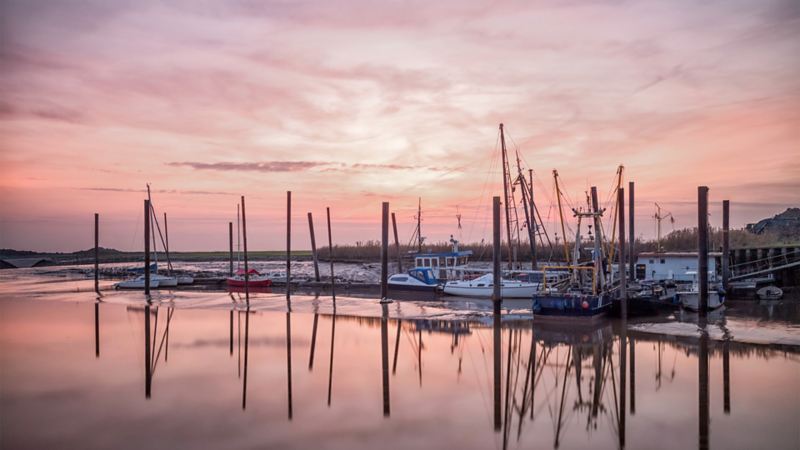 Countless leisure activities make Emden a great place to live. Water sport, such as sailing, is of course very popular. With the many festivals and events, making new contacts is really easy – for example at the Dragon Boat races or at the Emden Film Festival. Emden also has lots to offer from a cultural perspective. For example, discover the Georg Breusing rescue vessel, which is enjoying a richly deserved retirement as a museum ship in its home port of Emden. Or visit the Ostfriesisches Landesmuseum (East Frisian Regional Museum) if you would like to find out more about the art and cultural history of the region.
An island setting is a dream destination for many people. The island of Borkum is within arm's reach of Emden. A ferry journey of around two hours will take you to the largest and westernmost of the East Frisian Islands. 2,000 hours of sunshine a year on average make the long beach of fine sand an excellent playground. It's a great place to fly a kite or simply relax in a beach chair with a good book.
Emden has its fair share of well preserved bunkers, many of which are used for different purposes today. For example, many large and small music bands practise for their next performance in the bunkers. In addition, the "Kulturbunker" was opened in 2005 for cultural events: a lively meeting place that provides a venue for events and concerts and therefore strengthens and encourages integration and cohesion between people.
Vandaach proot wie mol op Platt! And start with a film – in Low German. 
Located directly at the Dollart and at the mouth of the Ems river, the plant in Emden has been an important cog in the Volkswagen machine since 1964. It was the birthplace of the Passat in 1978 and is our gateway to the wide world.
Around 8,800 of our employees work here. The Volkswagen Passat saloon, estate, Alltrack and GTE models are manufactured in Emden - up to 1,250 vehicles are produced every day. Since it was founded in 1964, the plant in Emden has produced more than 11.4 million vehicles.
With more than 18 million units of the Passat built overall, this is one of the truly great successes in automotive history.
The Volkswagen Arteon has been part of the plant's product portfolio since 2017. The focus will switch to the production of electric vehicles in Emden from 2022.
The port of Emden is one of the central hubs for importing and exporting new Volkswagen Group vehicles, in both overseas and European traffic. It is the third largest automobile transshipment port in Europe. Virtually all brands of the Volkswagen Group from European and overseas locations are handled here. In terms of figures, this translates to 900 ships, 170,000 railcars and 30,000 trucks, which arrive at the mouth of the Ems river every year, delivering and collecting cars. Around 6,000 new vehicles pass through the site and port every working day. This amounts therefore to more than 1.4 million vehicles per year that are imported and exported.
Jobs – Our positions and entry opportunities at the Emden site