At Volkswagen you can explore completely new territory, improve the world and revolutionise the future.
Diverse opportunities. Innovative work. Digital future.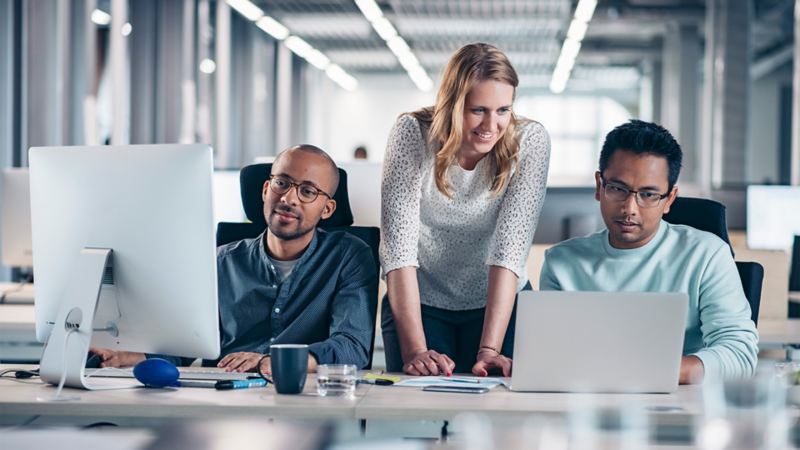 You can expect three things as part of our team: You will work directly on the future of the automobile and our company and develop innovative, sustainable mobility products and services. You will be supported individually and comprehensively on your career path. And you can count on us as a safe, modern and attractive employer. This goes for your wages and pension, your work-life balance and the way we want to collaborate within the company: agile, in teams and with flat hierarchies. 
No matter whether you are still studying or have already graduated, we offer you entry opportunities and personal development programmes that suit you down to the ground, giving you the ideal start to your career – from internships to doctorates or entry opportunities as an experienced professional.
We have already taken the first major steps towards the new age of mobility. But things are really only getting going now. Get actively involved and benefit from many advantages. Here is an overview of some of the most important:
At Volkswagen you will develop and program what nobody else has done before.
At Volkswagen you will benefit from excellent cooperation between different sectors and an interdisciplinary approach.
At Volkswagen you can help to shape the future. With inspirational mobility solutions that make life simpler and better for everyone.
At Volkswagen you have the freedom to explore and share your strengths. At Volkswagen you are not simply an employee, you are a person.
We strive constantly to innovate. With a whole host of visions and technical solutions. That's why you will not only develop cars with us, you will revolutionise the mobility of the future.
We build on strong partnerships within and outside the company. With us you will work in interdisciplinary teams and always have your finger on the pulse of time.
At Volkswagen you will develop ecologically, economically and socially compatible mobility solutions. Our employees play an active role in everything we do.
Openness and collegiality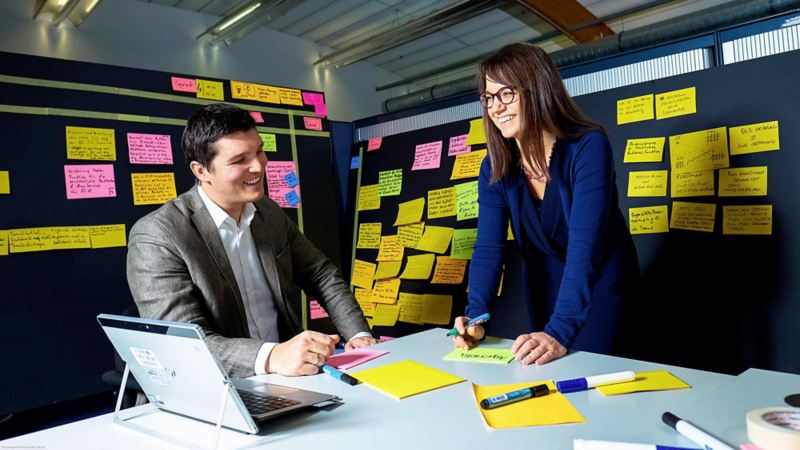 "Sie" or "Du"? How do I address my German colleagues?
At Volkswagen we have no set rule for the way we address other people. There are two options: formal ("Sie") or informal ("Du"). With "Sie" you use surnames (for instance, you would address Maria Schneider as "Frau Schneider") and with "Du" first names ("Maria"). Both are possible. It is normal for members of the same team to use "Du" and first names, and this is increasingly the case across teams and departments as well. Most of the time the right approach emerges quickly all by itself. Many of our employees include the note #GernPerDu (which means something like "I'm happy to use "Du") in their email signatures to show that you can say "Du" to them anytime, if you like.
Opinion barometer - every employee has a voice
We can only master the transformation of our industry if we cooperate in our company to the very best of our ability. Therefore, the opinion barometer is not just a tool for measuring the mood. It also gives every employee a voice, an opportunity to have their say. That voice will be heard, because once the survey has been completed, all managers are called upon to discuss the results within their teams as well as implementing and documenting improvements that have been agreed. That is how we ensure engagement, transparency and sustainability.
The 24 questions that make up the opinion barometer cover topics such as work and cooperation within the employees' own department as well as collaboration among different departments. This includes work processes, the leadership, participation and discussion culture, workload, motivation and development opportunities, and there is a special focus on integrity and compliance.
We are sending a clear signal: Every one of us can make a difference!

The questions asked in the opinion barometer are addressed to managers and employees of all Group brands in more than 40 countries. Participation is voluntary and respondents' anonymity is preserved. Following the completion of evaluation, managers will discuss team results with their respective teams and decide on improvements where these are required. This will be followed by the implementation stage. Measures that have been agreed must be documented transparently, which will also facilitate subsequent improvements.
What is it really like to work at Volkswagen? If anyone knows this, it's the Volkswagen employees. Simply take a look on Kununu at how our employees rate Volkswagen as an employer.
Diversity and equal opportunities

Diversity is much more than the advancement of women. It is about having the right person in the right place at the right time in the right job – at every level, regardless of their cultural background or other attributes. A special program within the Volkswagen Group is designed to sensitize employees to the topic and ensure that they live diversity within the company.
We stand for tolerance, openness and solidarity with one another. There is no room for xenophobia, hate, exclusion and persecution on our company.
Our 7

Volkswagen

Group essentials