The "chassis factory" in the Lion city of Braunschweig is one of the world's leading manufacturers of chassis components.
Why this is a good place to live

With a population of 250,000, Braunschweig is the second-largest university city in Lower Saxony. This is where centuries-old tradition meets cutting-edge top-level research.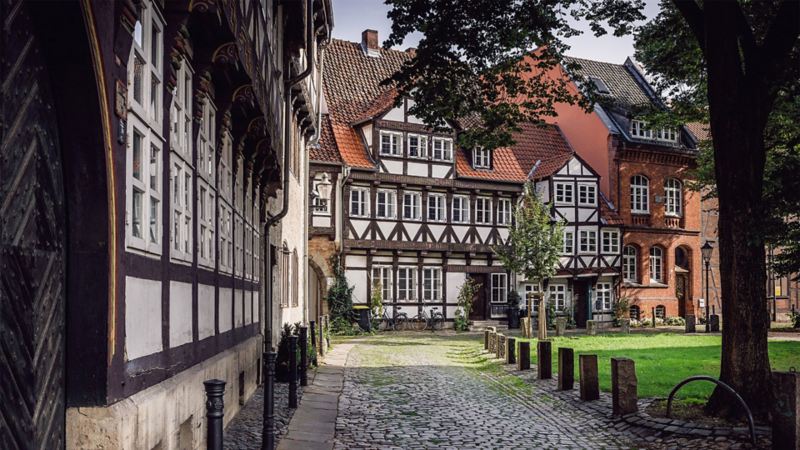 Where many Braunschweig locals like to spend their free time best is in the Magniviertel, one of the oldest districts in the city and home to numerous half-timbered houses. Enchanted narrow streets and romantic cafés make your leisurely stroll a magical experience. Quaint bars are a popular haunt for the many students in the evening hours, keeping the city vibrant and young.
Also playing their part in making the city a lively place, however, are the numerous premières hosted by the Braunschweig State Theatre. Here you can sample a full array of events – from classical theatre to dance to musicals. Delight also in the stage presentations and head home afterwards feeling fully inspired.
Lower Saxony is also home to many fairytale characters, including the legendary jester Till Eulenspiegel. He was reputedly born in Braunschweig and performed many of his pranks there too. Explore the idyllic home of Till Eulenspiegel on a long and exhilarating cycling tour. Events, activities and even a museum dedicated to the rambling rogue offer a fascinating adventure catalogue of his clownish goings-on. Fabulous day trip destinations await you in the Harz Mountains, the Lüneburg Heath, Wolfsburg or Hannover. And if you fancy venturing further afield, Hannover airport is an ideal starting point.
Do you love the game of football? So does Braunschweig. It's not for nothing that the city is the home of German football. Teacher and football pioneer Konrad Koch first introduced what is today our national sport in 1874 as part of his physical education lessons. One year later, Koch published the first German version of the rules of football. Braunschweig also played a pioneering role when it came to advertising on jerseys. In 1973, Eintracht Braunschweig became the first club ever to officially sport a sponsor logo on its jerseys.
In 1938, the very first Volkswagen AG plant was set up in Braunschweig as a satellite plant for the subsequent main plant in Wolfsburg and was used for training the later employees.
Today, Volkswagen Braunschweig stands for highly developed technical know-how and with a workforce of some 7,000 employees is one of the world's leading and largest manufacturers of chassis components. It works in a variety of areas, from development stages all the way up to final assembly.
In addition, Braunschweig is home to the world's largest coherent axle production. 
Parts from Braunschweig are installed today in virtually all of the Group's vehicles. And of course we are keeping an eye on developments coming down the tracks in the future. Forward-projects at the Braunschweig plant currently include cutting-edge steering systems and battery systems.
Jobs – Our positions and entry opportunities at the Braunschweig site