How to juggle family and work?
How to juggle family and work?
Assuming responsibility for a job and a family – it's nothing short of a Herculean task. As a family friendly employer, Volkswagen helps its employees pull it off.
Two examples.
Frequently, employees make decisions about their professional futures while on parental leave. This is a conclusion that Elisabeth Heilmann reached on the basis of her own experience – and she thinks that it is the case for other mothers and fathers as well. Heilmann, who holds a doctorate in business data processing, has been working at Volkswagen since the summer of 2010. After her second child was born two years ago, she received strong support from the company during the year-long parental leave she took. The support paid off.

The basis for this assistance was a pilot project called "Career with Children" that Volkswagen initiated in cooperation with the European Academy for Women in Politics and Business for upcoming managers. With the help of counseling, training courses and conversations with a career mentor, the mother of two stayed in close touch with the company, reflected on her situation and formulated career goals. One thing was clear: "I wanted to take on a new professional challenge after parental leave," Heilmann said.

Since January 2017, she has been heading a major IT project for digital after sales in the Volkswagen Group. As the "IT product owner," she is working with her team to digitalize after-sales processes.

People rarely receive promotions when they return from parental leave. The reasons are understandable: Many mothers lower their career expectations or even give them up completely once they have children. But times are changing. Today, a time when nearly half of the members of Germany's cabinet are women, increasing numbers of female specialists and managers remain interested in exciting career opportunities even when they have children.

Elisabeth Heilmann shows how to pull off the trick of managing both a career and family: Her team now has about 15 members and is expected to grow further. Nearly one-third of its members are women. "It helps to have a team with different types of people," the digital expert says – and speaks of women and men as well as different cultures and backgrounds.

Heilmann intends to pass on the support that she receives from her career mentor and her current superior. She recently hired a female employee who was just returning from parental leave.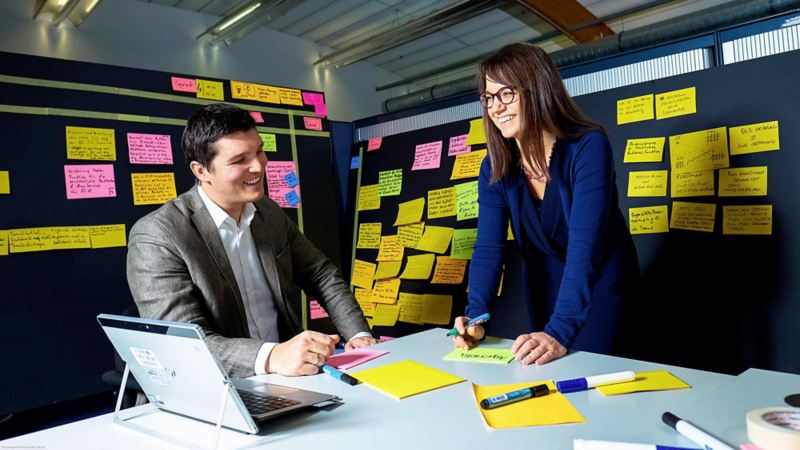 Just one hour in the office every week
Providing the most-possible time and location flexibility is the way to offer the best working conditions for parents with small children, Heilmann says.

She worked out an arrangement with her superior on the basis of the company agreement "Mobile Working." Under this arrangement, she has to spend just one hour in the office every week. In agreeing on this condition, Heilmann and her superior, Michael Marr, used every bit of the flexibility allowed by the company agreement. Heilmann can react to spontaneous changes – like a sick child – at any time and work from home. "My boss signaled his respect for me by taking this step and has given me a vote of confidence," she says. In reality, the project head usually works from home just one day each week. What matters to her is the ability to flexibly maintain a work/life balance at any time.

Michael Marr, head of IT after sales, is pleased about the results of his decision to provide this freedom to his team leader. She has demonstrated above-average commitment to her work and she does not have to necessarily demonstrate it by being in the office, he says. The specialist in business data processing works full time. She usually leaves the office about 4 p.m. and then picks up her children from day care. Many of her employees and colleagues continue to work. Heilmann starts up her computer in the evenings once the children have gone to bed. She uses this time to answer urgent e-mails and prepare for the next day. She makes phone calls that she is unable to make in the office while she is driving to and from the office.
High expectations – from herself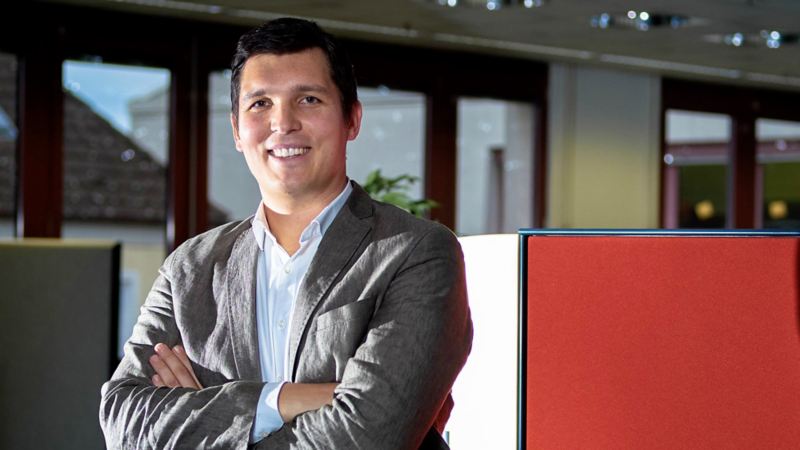 Heilmann says there are many reasons for the good working relationship. Marr has two small children of his own. As a result, he understands her situation and can support her, she says. Her work model is also respected in her own team. At home, her husband pitches in, too. He handles the child care when she has an important appointment that is scheduled outside normal business hours.
Does everything just simply take care of itself? Hardly. "The main problem is the feeling that you are not giving 100 percent to anyone," Heilmann says. For instance, she will leave the office before her employees do and still pick up her children relatively late from day care. She will also miss meetings and still cannot regularly join her daughter at children's gymnastics.

Marr understands the demands that Heilmann places on herself: "I try to explain to her that she does excellent work and that she occasionally expects more from herself than everyone else does."
Different department, a different family situation: Fredy Germerott works full time in production planning at Volkswagen. In principle, his job in Wolfsburg would allow him to see his 10-year-old daughter in the morning or the evening – if, course, she were not living with her mother 260 kilometers away. Germerott and his former wife separated when their daughter was 4 years old. Since then, he travels to Erfurt every two weeks and picks her up for the weekend.

The engineer took 14 months of parental leave after his daughter was born – while the family was still together. Today, he is happy that he took this intensive time off because it helped him form a bond with his daughter. Nonetheless, maintaining a strong relationship under such circumstances remains a challenge. Just how can you maintain an interpersonal relationship as well as nurture and raise a child during a two-day slot every two weeks?
You simply couldn't do it without an employer like

Volkswagen

.
He heads off to Erfurt every other Friday when he can after he finishes work at mid-day. He leaves right after the team meeting. Reliability is important to Germerott. After a couple separates, joint care and relationships with children will usually function well only if strict agreements are maintained. You cannot say that you will be a little late today because you cannot make up the missed time. "I frequently don't have the time when I need it for my daughter," he says. "Or I am not nearby." That feeling hurts the father – and causes him to constantly worry about his relationship with his child.
Germerott was really happy when his daughter had a chance to participate in the coveted vacation program Volkswagen offers to employees' children. The girl really enjoyed the activities – and her father felt that he finally had a chance to share something of an everyday relationship with her.