Volkswagen´s Commitment in South Africa: "If we don't do it, nobody will"
Volkswagen´s Commitment in South Africa: "If we don't do it, nobody will"
Thomas Schäfer, Head of Volkswagen Group South Africa, talks in an interview about the automaker's extraordinary dedication in the fight against the corona pandemic.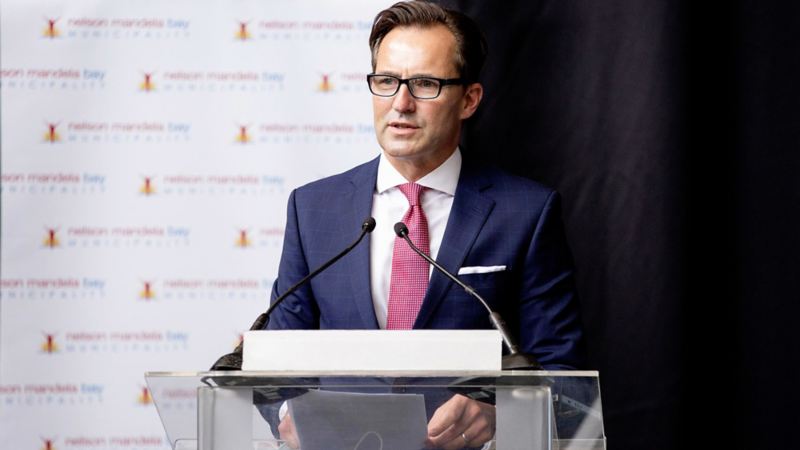 Mr. Schäfer, concerning corona, you recently said: "Prepare for the worst, hope for the best." Where do you think South Africa is currently positioned?
This is difficult to assess. On the one hand, we have a comparatively small number of Covid-19 infected people in our country. This certainly has to do with the fact that the South African government has imposed a strict lockdown. We were practically under house arrest for six weeks, not even allowed to jog or walk the dog. Almost everyone followed this rule. This certainly contributed to the fact that the number of infected and fatalities did not shoot straight up, as was the case in other countries. However, I fear that the figures are somewhat deceptive. After all, testing is not so widespread here. And there is another thing that worries me...
What?
In South Africa, the rate of people who are immune-compromised is extremely high due to HIV, tuberculosis and malnutrition. In addition, the people in the townships live together in very confined spaces. If the infection spreads here, we will have serious problems. Our health care system will then very quickly reach its limits. At the end of March, shortly after the beginning of the lockdown, I represented Volkswagen on the regional crisis management committee. When the experts there told me how many deaths they expected, I almost passed out. That day I realized: We at Volkswagen have to be on board and support wherever we can. After all, we not only have technical capacities at our plant, but also employees with know-how. That's why we have set up a task force and jointly considered what we as a company can contribute to overcoming the crisis.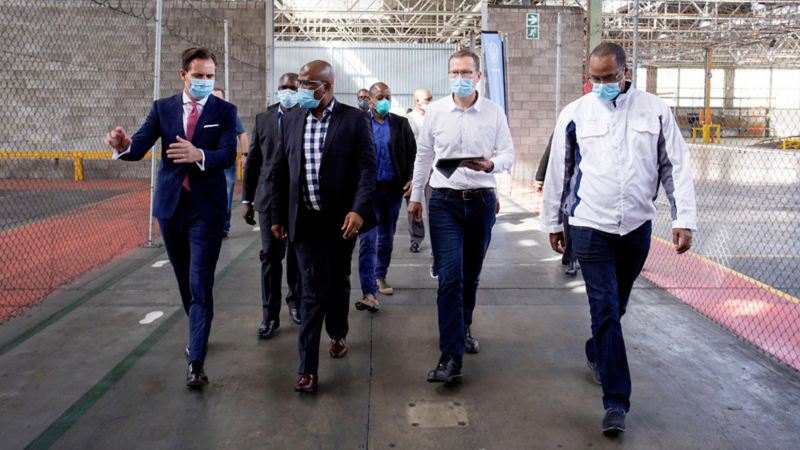 One major issue is the lack of capacity in hospitals.
We have about 3,500 hospital beds here in the region around Port Elizabeth. 3,000 of these were occupied before the corona pandemic broke out. However, according to the experts' calculations, we need 7,000 to 8,000 beds to be able to treat all corona patients. In short: we need a hospital spillover.
And that's where Volkswagen comes in...
We have a factory building covering almost 70,000 square meters, where we manufactured components and stored spare parts for our dealers up until a few months ago. Meanwhile the component assembly has moved to a building near our plant, and the spare parts warehouse to Cape Town. The old, empty building was in the process of being sold, but now we are making it available as a makeshift hospital. The doctors were immediately delighted when we showed them the building for the first time. It is very large, it gets a lot of natural daylight through windows in the ceiling and it has large tanks in which we used to store argon for welding equipment. These are now being converted to liquid oxygen tanks. After all, a lot of oxygen is needed to supply corona patients.
Who operates the hospital?
We can build cars at Volkswagen – but we cannot save lives. That's why it was clear to us from the outset: we would provide the factory and prepare the hospital until the keys were handed over, but someone else would have to operate it. The local health ministry will take care of that.
How is the project financed?
In the past, we have implemented various projects together with the Federal Ministry for Economic Cooperation and Development in Berlin. When we told the BMZ about our plans, they were very enthusiastic and promised to support the construction of the makeshift hospital with several million euros. The applications were approved in record time.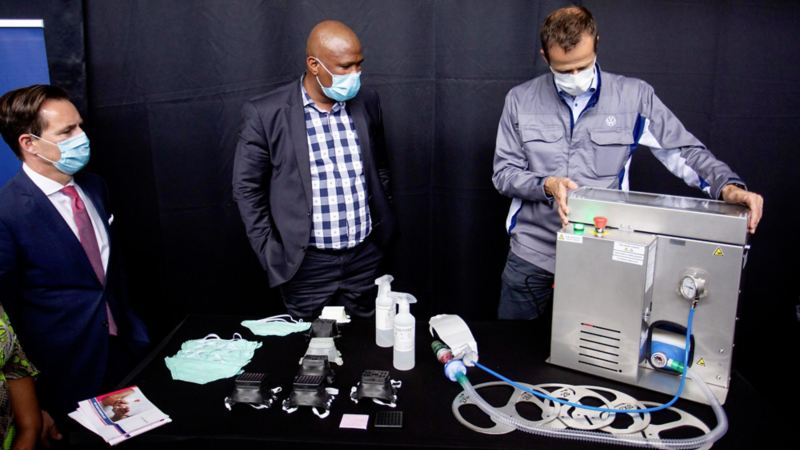 We at

Volkswagen

are committed to the common good, regardless of the current crisis.


CEO of

Volkswagen

Group South Africa

How long will it take before the first Covid-19 patients can be treated in the former factory?
If we had rebuilt the entire hall at once, it would have taken just under four months to complete. But in order to be able to admit the first patients as soon as possible, we decided to rebuild the hall in three stages. This means that we will soon be able to hand over the first area with almost 1,500 beds, while the construction workers continue to work in the other two areas – separated from the patients. On June 22, the makeshift hospital is scheduled to be completely finished, by then 4,000 patients can be treated here. President Ramaphosa has already announced his intention to hand over the keys.
Where does the extraordinary commitment of Volkswagen South Africa in the fight against the corona virus come from?
We at Volkswagen are committed to the common good, regardless of the current crisis. Starting with our "Show of Hands" volunteer program, in which our employees volunteer four times a year to renovate social facilities, through HIV prevention work to educational projects. Learning to read and write has been one of our core themes over the past two years. The great thing is that with a bit of money and a lot of commitment you can make a large difference in South Africa. So, it soon became clear to us that we, as Volkswagen, must play an even greater role here in the fight against corona than in the rest of the world. Because: if we don't do it, nobody will.
What do the employees think about this commitment?
The team responded very well to this. Everyone pulled together; many people got in touch and wanted to get involved. I was constantly reminded of how proud people are to work for Volkswagen. And of course, our commitment is also well received by the public. It has to be said that our company already enjoys great affection here anyway; for many South Africans, Volkswagen is part of the family. Some people don't even know that it is a German company.
Thank you very much!