Your vocational training programme at

Volkswagen

in Germany 2024

Your vocational training programme at

Volkswagen

in Germany 2024

You've got this. So, let's get started with vocational training at Volkswagen. After all, it's not just any old training course – it's your vocational training.
Training has always been a matter close to our hearts! Our large number of trainers are also highly motivated and committed. They all have the same goal. This is to give trainees access to excellent training programmes, to build their enthusiasm for new knowledge and new skills, to bring their hidden talents to the fore, and to prepare them for their future responsibilities at Volkswagen in the best possible way. Our central premise remains the same – training should be fun! This is why we place great value on learning in teams, trying things out, puzzling over problems and solving challenges. We all consider ourselves to be one team, a part of our extended Volkswagen family.

We look forward to receiving your application.
Depending on the professional training programme, you should meet a number of different requirements. You'll find the specific requirements further down when you click on the respective professional training programme.
It is important to note that training is carried out in German. This means your knowledge of German must be at the appropriate level.

Another fundamental prerequisite is that you have neither started nor completed vocational training or a course of study. If you have, then Faculty 73 might be right for you.

You should also be able to work independently and be a team player – and enjoy learning.

All professional training programmes are of course open to all genders!

We run training courses at the Volkswagen sites in Wolfsburg, Hannover, Kassel, Braunschweig, Emden and Salzgitter*, although the professional training programmes offered may differ. You'll find a relevant overview further down.

You'll learn all the basic competences that your professional training programme requires at our Volkswagen Academies, which are usually located directly on the site of the respective plant. This involves dividing up the areas of instruction into different subject areas, in which you will learn, for example, turning, milling, brazing, punching, welding, cabling and measuring with guidance from expert instructors together with other trainees and work-study degree students. Theory is also taught. You work on this in collaboration rooms for computer-aided applications using the latest technology, and also in seminar rooms. Things then get really interesting in the departments where you will regularly use the knowledge gained during training and will be able to develop this accordingly.

At the same time as attending training at Volkswagen, you will also attend a vocational school (German: Berufsschule) which is usually also located in one of the cities named above.

*Our Volkswagen companies also offer traineeships, for example in Dresden, Chemnitz, Zwickau and Osnabrück – and in the dealerships, too. This overview can also be found further down.
Please note that the information provided on this site may differ from the information provided by our companies.

Depending on the profession you choose, your training programme lasts from 3 to 3.5 years. Over this period, you will pass through our different training stations, starting with a comprehensive introduction to the materials, devices and tools. At the same time, you will be attending a vocational school. This is why the training programme is also known as "dual vocational training". Depending on the professional training programme, this is either done on particular days (e.g. 1–2 days a week) or in longer, thematically related blocks.

You will further develop and broaden your practical knowledge by learning the relevant theory at the vocational school (German: Berufsschule). There, you'll also be covering general subjects, including German, Mathematics or English.

Once about half your training programme is complete, we'll register you for your intermediate exam. Successfully passing the exam allows you to start with the second part of the programme. Once you've completed this, you'll do your final exam. And if you also pass this successfully, then we'll want to appoint you as a permanent employee.

While you are completing training units at our Volkswagen site, you will be working 35 hours a week, which is 7 hours a day. You are entitled to a lunch break of 40 minutes a day, allowing you, for example, to choose from the extensive menu options in one of our company restaurants.

Work usually starts between 7:30 am and 8:00 am, and then finishes accordingly between 3:10 pm and 3:40 pm.

You will also receive 30 days of annual leave, and the whole day off on full pay on 24 December and 31 December.
Gain up to 4 weeks of international experience during your training programme. From the second year of training on, we offer the opportunity of completing an international internship through ERASMUS Plus. You decide where you will be heading, and in which industry you would like to do your internship.
Gain up to 4 weeks of international experience during your training programme. From the second year of training on, we offer the opportunity of completing an international internship through ERASMUS Plus. You decide where you will be heading, and in which industry you would like to do your internship.
Our trainees went around with a camera on your behalf and present five of their professional training programmes here. (currently only in German)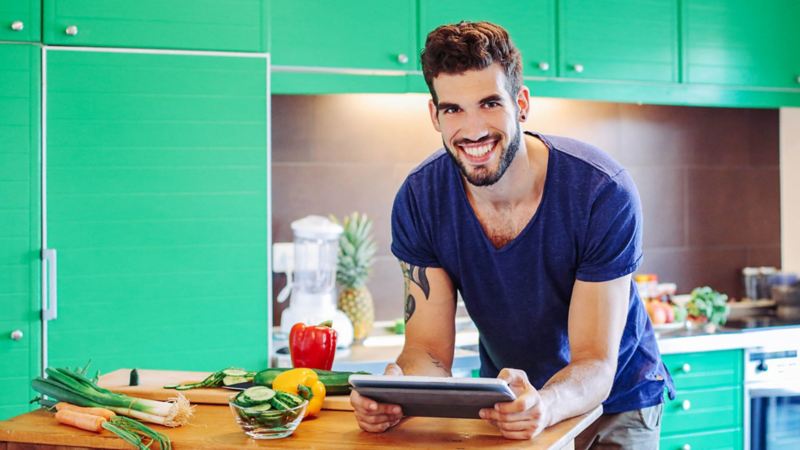 Special offer: flats for trainees in Wolfsburg
You've finished school, are now attending vocational training at Volkswagen and would now also like to live within your own four walls? No problem. Volkswagen Immobilien has a very special offer for you in Wolfsburg. You will find more information and contacts on the website of Volkswagen Immobilien.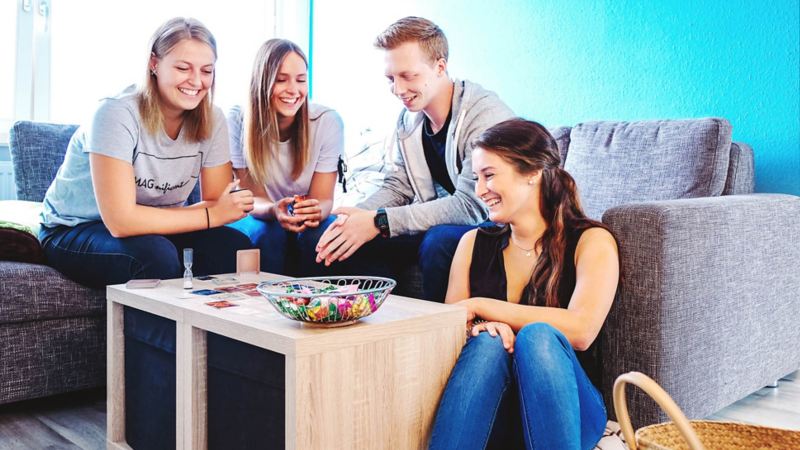 Flatsharing
If you'd rather live in a shared flat (SF) during your training programme, then Volkswagen Immobilien also has a suitable offer for you. You can easily rent low-priced rooms on a flatsharing basis for periods of time that reflect your needs. You can learn more on the website of Volkswagen Immobilien.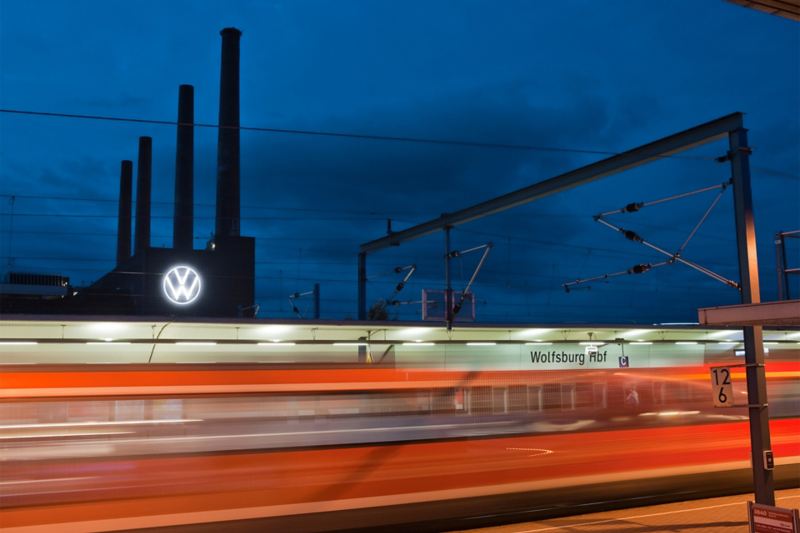 Commuting
You don't live directly at one of our sites? Then have a look whether commuting might be an option.

Vocational training programmes

Choose your preferred profession

You'll find all our vocational trainings above or by clicking here. You will then be taken to our German-language overview of the trainings. Choose one the professions of your choice to find out more about it. You can also apply for several vocational trainings at once – everything you need to know can be found here: How do I apply for multiple professional training programmes?
Please note that the training is mainly in German.
What does the profession actually do, which subjects does the training programme cover, and are you equipped with everything you need? Find out on the respective details pages.
If you'd like to apply for the vocational training programme you've chosen, then you'll find the corresponding function on the respective details page. Important: The applications are only possible within the application period (next period goes from 1 August 2023 until 31 March 2024).
Please note that the application language should be German

And there's one last thing we'd like to tell you: 
We're already eagerly anticipating you and your application! :-)