Embark on an international career straight away with our trainee programme

Embark on an international career straight away with our trainee programme

As an internationally minded graduate, the StartUp Cross trainee programme offers you the perfect stepping stone into the diverse and international world of Volkswagen. You can gain international experience while working on exciting projects immediately after completing your studies.
StartUp Cross – Quickly explained
With the StartUp Cross programme, you will really get to know Volkswagen over the 18 months – including three months at one of our locations abroad. A personal mentor from management and our StartUp Cross team will be on hand to provide support throughout your training period. A mentor from the trainee community will also lend you support.
Requirements
You must meet the following requirements to qualify for the StartUp Cross trainee programme:

Successfully completed studies


Final grade at least "good" (a result that exceeds the average requirements considerably)


Minimum international stay of 4 months during your studies (internship or semester abroad)


Max. 1 year work experience


Language skills (English, another foreign language would be an advantage)


Strong team spirit, ability to work on own initiative, flexibility, mobility, commitment and entrepreneurial mindset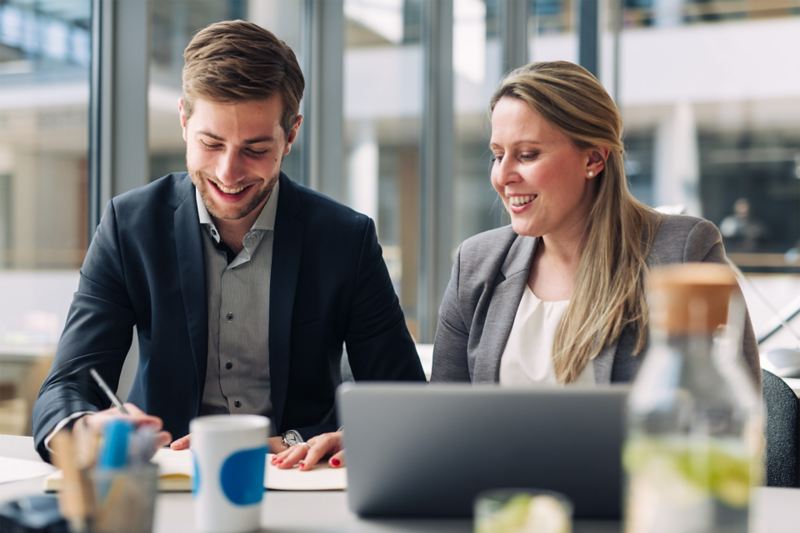 Roadmap for the trainee programme

The StartUp Cross programme consists of five different modules. You will really get to know Volkswagen and its many facets and get the best possible start with us.
I was really impressed with the flexible structure of the trainee programme.

StartUp Cross trainee in IT
Exemplary sequence of the program modules

The perfect start with

Volkswagen


12 weeks
You will begin your trainee programme in your previously defined target area. Here you will get to know your future tasks and colleagues as well as your mentor from management. Together with your mentor and the StartUp Cross team, you will then design your own custom trainee programme.
Get to really know

Volkswagen


6 to 8 weeks
During six to eight-week project assignments in different areas of the company, you will discover the Volkswagen world along the entire process chain. This could include Research & Development, Production, Sales, Marketing, Finance, Controlling and a strategic division.
Venture out into the wider world
12 weeks
You will gain wide-ranging experience during your three-month international assignment. We will discuss with you which site you will be sent to. And we will of course offer you assistance in organising your trip.
Intensive customer contact
2 weeks
Two further important modules of the trainee programme are the period in retail and in the Autostadt, where you will get to know what makes our customers tick. Here you will acquire in-depth knowledge of customer expectations as well as retail and sales processes.
Know-how on the production line
3 weeks
During this programme module in manufacturing, you will learn about the processes involved in our car manufacturing. As part of this, you will spend time working in the three-shift system to experience at first hand how a Volkswagen is produced.
Who could be better qualified to provide a clear and credible report about our StartUp Cross trainee programme than trainees at Volkswagen? Take a look here at three interesting reports.
Impressed? Then apply now.

Current positions:
You will find all the latest positions available for the StartUp Cross programme in our job portal. Should you not find a suitable trainee offer, simply check back at a later time or activate the push notification (Job Agent).
Is this your first time to apply to us?
Not a problem: to make sure you get it right we can tell you first how it works.