(German: Werkzeugmechaniker/-in)
Find out more about the training and apply here.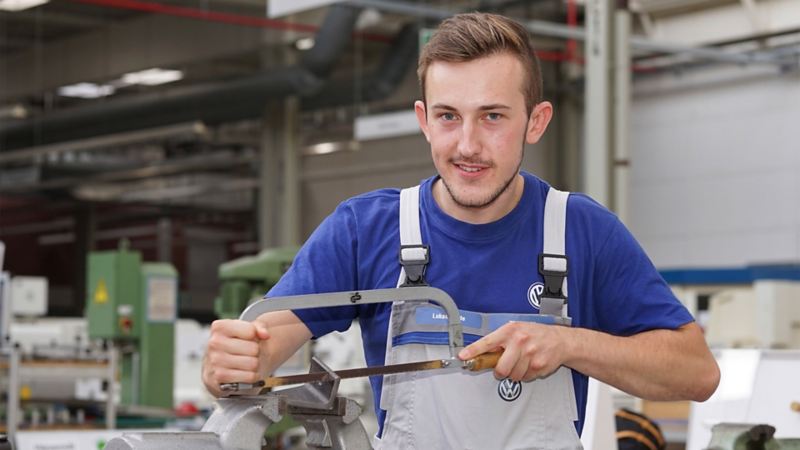 Hi, my name is Alex and I am currently training for the profession of tool mechanic at Volkswagen. I manufacture tools here with a 0.01 mm precision, which are then used in mass production for manufacturing vehicle body parts. My work is primarily based on technical drawings, which I then implement using tools such as files and saws. I use computer-controlled cutting machines, however, to produce a large proportion of my tools. I test my products finally using various measuring and testing tools, for example calliper gauge, plug gauge or knife edge square, to ensure they meet the expected high quality standards.
Sound exciting? Then apply right here, right now.
See you soon
Alexander
We offer this training in:

Wolfsburg
Emden
Salzgitter

1 August 2020 until 28 February 2021

Your training commences in September 2021 and will take around three years.

Your monthly remuneration is based on your year of training:

Year 1: EUR 1,068
Year 2: EUR 1,105
Year 3: EUR 1,219
Year 4: EUR 1,293
We offer this training in:
Wolfsburg
Emden
Salzgitter
What is the apprenticeship all about?

Tool mechanics are tasked with producing and repairing fixtures, templates and cutting and forming tools to scale based on technical documentation. This does not mean items such as pliers and wrenches, rather sophisticated equipment for producing and machining vehicle body parts, measuring and testing tools. These activities are performed independently in job production and must fulfil the strictest quality requirements.
Your development opportunities

On completion of your vocational training as a tool mechanic, you can of course further your professional development in the subsequent years of your career. These exciting opportunities are open to you:
Certified technical business management specialist
Am I the right person for this?

This could be the perfect profession for you if this sounds like you:
You enjoy repairing things and embrace technical challenges.

You have never had to dust down your toolkit.

You made all your own furniture at home – even though three screws were missing.

You like technology and large machines.

You are not afraid of getting dirty at times.
Incidentally: Our apprenticeships are open to everyone, regardless of gender.
What you need
Manual dexterity, interest in precision working, good knowledge of maths and understanding of technical and physical processes.
Language skills
You should have good knowledge of German.
School leaving results
We recommend you have at least a good secondary school leaving certificate.
Have you not yet taken your final exams?
Important note: We only offer initial vocational training. If you have already completed vocational training or if you have professional experience, we unfortunately cannot offer you vocational training at Volkswagen.
We are known for our excellent vocational training. Find out here exactly what you can expect from us. Please note that changes to the procedure may be made at short notice.
You will learn the following in your first year of training with us:
Reading, applying and creating technical documents

Distinguishing, assigning and handling materials and ancillary materials

Planning and controlling workflows and motion sequences, checking and assessing results

Different types of mechanical and manual machining (filing, sawing, turning, milling)
Focal points in years 2 to 4

You will learn the following in the second part of your vocational training:
Creating, optimising and testing programs for computer-controlled machine tools 

Joining, fitting, removing and repairing components and assemblies, tools, fixtures and gauges

Constructing and testing pneumatic and hydraulic circuits
You can apply online here for up to three sites:
Here's how you apply to us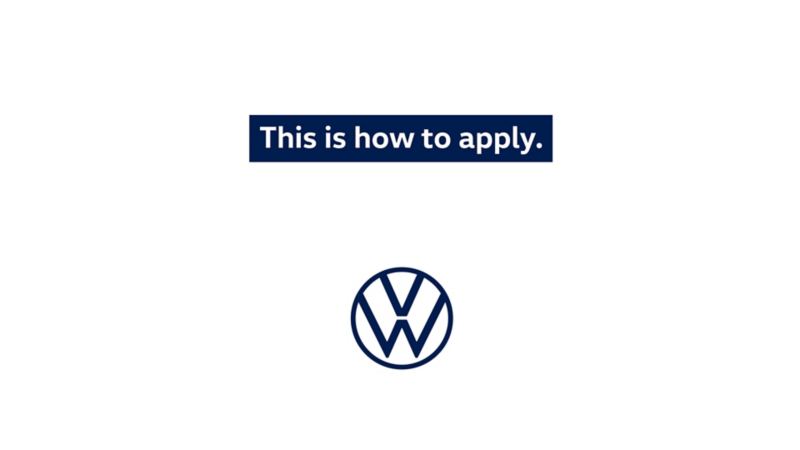 Or would you prefer something different?

You can apply for up to three apprenticeships at the same time. These alternatives may also be of interest to you: