(German: Werkfeuerwehrmann/-frau )
Find out more about the training and apply here.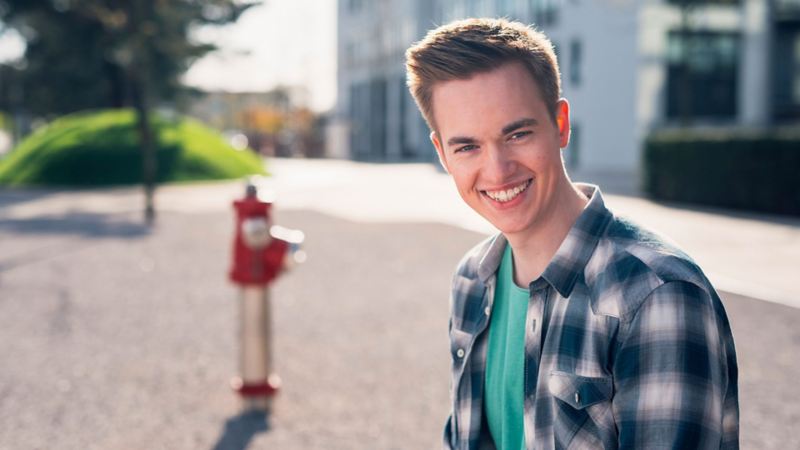 Protecting, extinguishing and heroes

My childhood dream was to be a fireman and I already feel a little bit proud that this is becoming a reality for me. As part of my vocational training at Volkswagen I learn the full range of firefighting, medical emergency and technical assistance measures, specially tailored towards the requirements here. Prevention is really important in my profession, in other words regularly checking protective measures. The aim is to make everything so safe that fires or explosions don't happen in the first place. And should this happen nonetheless – that both equipment and I are in top shape and ready to go.
Sound exciting? Then apply right here, right now.
See you soon
Fabian
We offer this training in:

Wolfsburg
Hannover
Braunschweig
Kassel
Emden
Salzgitter

Please note: Training takes place centrally in Wolfsburg.


1 August 2020 until 28 February 2021

Your training commences in September 2021 and will take around three years.

Your monthly remuneration is based on your year of training:

Year 1: EUR 1,068
Year 2: EUR 1,105
Year 3: EUR 1,219
Year 4: EUR 1,293
We offer this training in:
Wolfsburg
Hannover
Braunschweig
Kassel
Emden
Salzgitter
Please note: Training takes place centrally in Wolfsburg.

What is the apprenticeship all about?

As a plant fireman, you carry out firefighting and emergency medical measures and provide technical assistance. Together with the other plant firefighters you are responsible for preventive fire and safety measures. You have to tailor the protective measures to suit the special needs of the company and ensure that emergency vehicles and fire service equipment are always ready for action. Your aim is to prevent fires, explosions or accidents. When an emergency call is received, you rush to the damage site to put out the fire. You secure the danger zone and perform rescue operations. Your task is to ensure the safety of our employees and to minimise damage to facilities. In addition, you provide technical assistance and perform emergency response operations if necessary.
Your development opportunities

On completion of your vocational training as a plant fireman, you can of course further your professional development in the subsequent years of your career. These exciting opportunities are open to you:
Certified industrial foreman
Am I the right person for this?

This could be the perfect profession for you if this sounds like you:
You are no longer just playing the role of hero, you want to be one.

You are or were in the youth fire brigade.

You are a sports ace and want to exercise on the job.

You've always wanted to turn on the flashing lights and sirens.

You have a heightened sense of duty and want to help others.
Incidentally: Our apprenticeships are open to everyone, regardless of gender.
What you need
Minimum age of 16½ to start training, understanding of technical and physical processes, manual dexterity, fit and healthy for such duties and physical fitness (suitability for fire service/suitability for use of breathing protection), no fear of heights or claustrophobia.
Driving licence
As a prerequisite for the training, you need to have acquired a class B driving licence by March 2022.
School leaving results
We recommend you have at least a good secondary school leaving certificate.
Have you not yet taken your final exams?
Important note: We only offer initial vocational training. If you have already completed vocational training or if you have professional experience, we unfortunately cannot offer you vocational training at Volkswagen.
We are known for our excellent vocational training. Find out here exactly what you can expect from us. Please note that changes to the procedure may be made at short notice.
Focal points in the first 18 months

You will learn the following in the first part of your vocational training:
Manually skilled condensed training

Metal technology and electrical engineering

Sanitary, heating and air conditioning systems
Focal points in months 19 to 26

You will learn the following in the second part of your vocational training:
Practical and theoretical training as a paramedic

Fire service qualification

Acquisition of class C/C driving licence

Firefighting, technical assistance and emergency response operations

Emergency response principles and techniques
You can apply online here for up to three sites:
Here's how you apply to us