IT specialist in system integration
(German: Fachinformatiker/-in Systemintegration)
Find out more about the training and apply here.
We offer this training in:

Emden

1 August 2020 until 28 February 2021

Your training commences in September 2021 and will take around three years.

Your monthly remuneration is based on your year of training:

Year 1: EUR 1,068
Year 2: EUR 1,105
Year 3: EUR 1,219
Year 4: EUR 1,293
We offer this training in:
Emden
What is the apprenticeship all about?

Information and communication systems are changing the working world and society to an unprecedented extent. As an IT specialist, you plan and implement IT systems and introduce new or modified systems. Your tasks also include professional advice, support and training for customers and users. By specialising in application development, you are involved at all stages of the software development process.
Your development opportunities

On completion of your vocational training as an IT specialist, you can of course further your professional development in the subsequent years of your career. These exciting opportunities are open to you: 
Certified technical business management specialist

State certified technician
Am I the right person for this?

This could be the perfect profession for you if this sounds like you:
You don't think that a motherboard is a mother's day gift.

You have initial experience of programming languages.

You are never satisfied with your computer's performance and constantly want to upgrade it.

You like small flashing lights.

You keep your parents' computer in good repair. 
Incidentally: Our apprenticeships are open to everyone, regardless of gender.
What you need
Good to very good knowledge of maths, ability to think logically and a keen interest in new information and communication technologies.
Language skills
You should have good knowledge of German.
School leaving results
We recommend you have a general higher education entrance qualification.
Have you not yet taken your final exams?
Important note: We only offer initial vocational training. If you have already completed vocational training or if you have professional experience, we unfortunately cannot offer you vocational training at Volkswagen.
We are known for our excellent vocational training. Find out here exactly what you can expect from us. Please note that changes to the procedure may be made at short notice.
You will learn the following in your first year of training with us:
Hardware and software fundamentals

Market and customer relationships
You will learn the following in the second part of your vocational training:
Creating and documenting programs

Data protection and copyright law

Custom adaptations and software maintenance
You will learn the following in the third part of your vocational training:
Conceptual design and system design

Programming custom application solutions

Project planning, execution and control (in the form of a final project)
You can apply online here for up to three sites:
Here's how you apply to us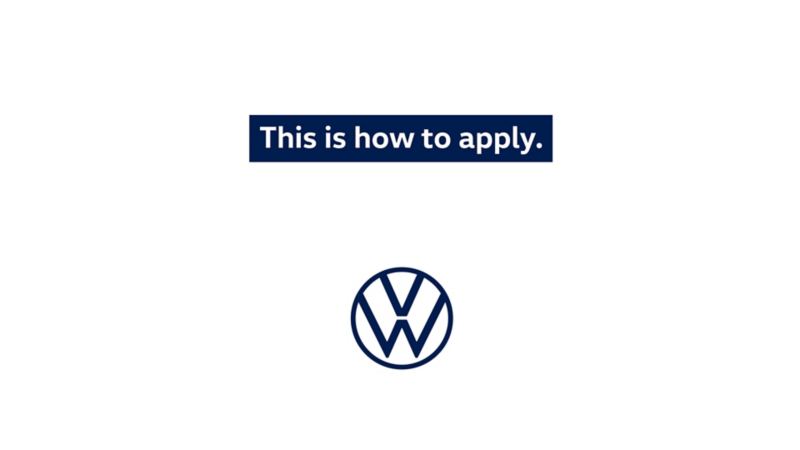 Or would you prefer something different?

You can apply for up to three apprenticeships at the same time. These alternatives may also be of interest to you: