Theory meets practice. And exciting projects and nice people.

Theory meets practice. And exciting projects and nice people.

You can complete an internship at Volkswagen in a range of different areas and gain valuable experience. We offer both voluntary internships and mandatory internships, all of course with intensive specialist support, a salary and holiday leave.
I was able to gain a range of intercultural experiences during the internship.


Intern in

Volkswagen

Brand Pilot Hall

What you can expect:
An internship with all the extras

An internship with Volkswagen allows you to get to know Europe's largest automotive company, work in exciting areas of the company and have responsibility in projects. And you will be part of a large team, which already has its sights fixed on the mobility of the future.
Whether you are undertaking a voluntary or mandatory internship or writing your dissertation, we pay everyone the full statutory minimum wage. That goes without saying. But we also do so in a spirit of fairness. Even if it is only for the foreseeable future for now.

Interns at Volkswagen naturally receive paid holidays – just like all other employees. The number of days is calculated on the basis of the duration of your internship and legal regulations. Your personal contact from the intern support team will also help you with these queries.
But we offer you even more, including:
Excellent support by the department and the internship team


Employee rates when purchasing a

Volkswagen




Help finding accommodation (depending on site)


An exclusive tour of the factory


The option to take part in interview training (depending on available places)


A regular social event for interns to share their experiences and to network
Accommodations during your internship

(only in Wolfsburg at the moment)
Sounds good?
Find out more here:
The classic internship: details and requirements

Duration of an internship:
Your internship will last between eight weeks and six months. The time and duration will be defined to suit your conditions of study. Between ourselves, we recommend completing at least a six-month internship with us, as this gives you sufficient time to get to know Volkswagen properly and to familiarise yourself with your topic. It is generally possible to extend or shorten an internship.
Support during your internship:
It is important to us that you experience and learn a great deal during your internship and have fun at the same time. A mentor will therefore be on hand to support you during your entire internship. Your personal contact from the intern support team will help you with administrative queries.
Requirements - what you need
Gap Year
Would you like to do an internship in between completing your Bachelor's degree and starting your Master's? No problem. However, because you are generally not enrolled at a university during this time, which would otherwise be a requirement for an internship with us, please enclose a letter of intent/confirmation that you intend to commence a Master's.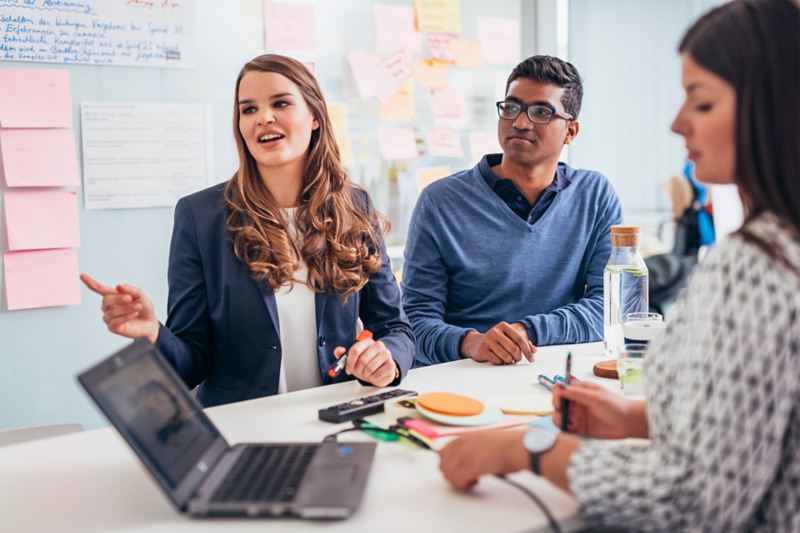 Prospects: Has your internship come to an end? There's more to come.

If you make a really positive impression as an intern and have achieved good or excellent grades in your studies, we have two more interesting options for you.
Dissertation or student staff position
Did you enjoy your internship at Volkswagen and would like to further expand your practical experience afterwards? Then why not write your dissertation with us? Or would you like to work with us at the same time as studying by taking up a student staff position? To find out about the different options available to you, check with your mentoring department and the intern support team.